Scrum is a methodology to deliver new software capability every 2 to 4 weeks. It is rooted in agile project management, but primarily used for software development. The intent of it is to develop higher-quality software faster than by using traditional means.
Scrum is considered to be the most popular agile method in the world today. Seventy percent of software teams use Scrum, according to the 12th annual State of Agile report. Scrum helps software teams move fast in the face of ambiguity and complexities, resulting in higher productivity, reduced time to market, better team collaboration and better quality products.
The key to Scrum that makes it so effective is the fact that information about every aspect of the software development project is made transparent. People on the team can adapt based on real-time information and current conditions – not on predictions or outdated information.
Furthermore, Scrum lends itself to enable faster adjustments because frequent inspections ensure progress, and detection of variance is accomplished early on in the process.
The term "scrum" is also used in the game of rugby, referring to when all the players put their heads together to fight for the ball. In a sense, Scrum is similar – the software development team, technical and non-technical alike, "put their heads together."
A best practice for Scrum is to allow the team to self-organized around people's skills, experience, style and personality tendencies. Under the Scrum umbrella come Sprint Planning, Daily Scrum, Sprint Review and other components of the methodology. Sprints, for example, are periods of time when software development is actually done.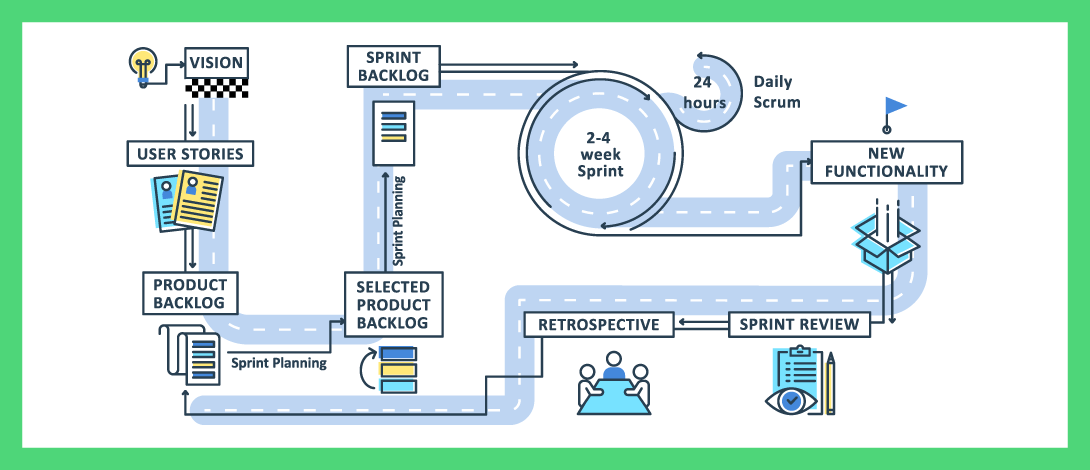 A Scrum team does not have a "leader" in the traditional sense. It does have a "product owner" and a "scrum master" (who represents the customer), but the Scrum team is essentially self-managed, which is motivating for people who want more freedom to be creative and participate fully.
Although Scrum may at times seem like a hard fit for early stage startups, even startup ideas, you should use learn this framework and test it out with your idea so that you can see what works for you now and how it can continue to work for you later once your idea becomes a full fledged business. Nevertheless, startups that have adopted Scrum will often experience the following benefits:
Increase in Productivity
Better- Quality Products
Quick releases keep the team motivated
Happier users/stakeholders as they can see progress in a short amount of time
Semi – prescriptive approach help remove the ambiguities